Sourcing local, Starbucks global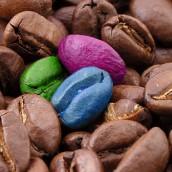 Seattle, Washington – Starbucks is embracing the model of sourcing local – on all levels, down to the wood on the table. Using architectural design integrating local materials, arts, resources (such a felled ash tree, 3 miles from their store), to reflect their "shared planet" sensibility.  Starbucks is reinforcing local influences, an incredible feat within 50 countries where they are making each store lead certified.
As a result, Starbucks brought lead certification to China. Arthur Rubinfeld, President Global Development, Starbucks explains that the brand is agrarian, earthy and into dirt. Other aspects of branding include positioning coffee retailing without many words to reflect the 3% of global. Attention to detail is so deep, they address the ergonomics of each culture, such as smaller chairs in China to accommodate the smaller frames.
___________________________
Follow us Twitter.com/NobleProfit
Register at Noble Profit to gain valuable insights in related topics.
Noble Profit is brought to you by Creative Entity Org and Creative Entity Productions created by Amy Seidman.