Environmental Giving: A Business Strategy for Success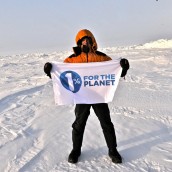 1% for the Planet Member Companies' Growth Outpaces GDP
What goes around comes around. The Golden Rule. Karma. This basic tenet of the world's religions and philosophers has translated into a business strategy that is driving strong financial success for more than 1000 companies that are members of 1% for the Planet.
Members of the global 1% for the Planet network commit to investing at least 1% of annual revenue with non profit organizations focused on environmental stewardship and sustainability.
"A key pillar of the Patagonia Footwear brand is our commitment to sustainability," said Sue Harvey Brown, Marketing Manager for Patagonia Footwear. "We've taken our membership in 1% for the Planet to another level by also creating the Advocate collection of 1% for the Planet co-branded footwear which has been very successful. Our Advocate Weeks program empowers the employees of our retailers to select local environmental organizations that receive funding from the program, which in turn has helped to engage consumers and help our participating retail partners achieve significant sales increases over comparable periods. It's clear that our 1% for the Planet commitment resonates with the consumers and employees that we reach through these programs."
Between 2009 and 2011 companies that were members of 1% for the Planet saw a combined revenue growth above 20%, compared to less than 2% growth of US GDP over that same period.
"As 1% for the Planet enters its 10th year and celebrates more than $100 million given to environmental causes by member businesses, we are also celebrating the financial success of our member companies," said 1% for the Planet CEO Terry Kellogg. "Our global business movement is proving that giving back to the environment is a sound business strategy that inspires consumers and employees while addressing critical environmental issues."
Why does giving money away to environmental causes drive financial success for a company? There's no single answer, as every company approaches sustainability in different ways.  Many companies focus on cleaning up their internal operations and supply chain, others focus on supporting community organizations that their employees and customers care about. The best follow both of these paths.
"Klean Kanteen was founded in response to an environmental issue, namely pollution from single use plastic food and beverage containers, so it was a natural fit for us to join the 1% for the Planet movement as a way to ensure our stakeholders of our level of commitment," said co-owner of Klean Kanteen Jeff Cresswell. "We know that consumers are skeptical of environmental claims with so much green-washing in the marketplace, but we also know that consumers are looking for the business world to provide real solutions to environmental issues. Our membership in 1% for the Planet is one of the ways we inspire our employees and consumers to be the change they wish to see in the world. We're convinced that we're on the right path, and the success of our company and the 1% for the Planet movement are strong testaments to that."
But whether a company focuses their sustainability investments internally or externally, a critical factor is credibility. If the customers and employees are convinced that a company's environmental commitment is solid, instead of an attempt at green-washing, consumer and employee loyalty and engagement can become fundamental drivers of business success.
"A consumer is smart enough to know that when he buys a bottle of tropical fruit juice and on it is says a percentage of the price of this product will go to saving the rainforest, what does that mean?" said 1% for the Planet co-founder Yvon Chouinard. "What does a percentage mean? It means nothing. And they know that. But when you say 1% of sales, you can't fake it."
___________________________
Follow us Twitter.com/NobleProfit
Register at Noble Profit to gain valuable insights in related topics.
Noble Profit is brought to you by Creative Entity Org and Creative Entity Productions created by Amy Seidman.